May 23, 2017
Five Ways to "Rock" Your St Augustine Vacation
By: Jamie Narehood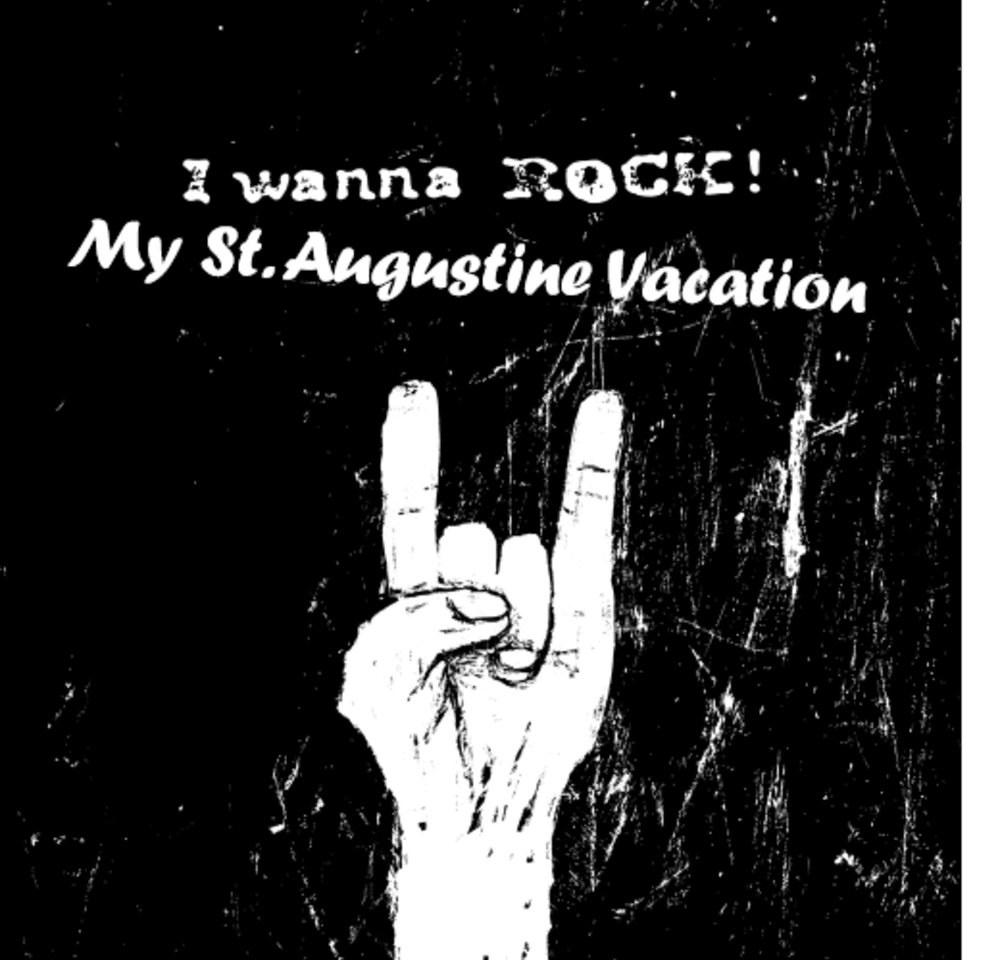 Five Ways to "Rock" Your St Augustine Vacation
1. Peaceful Spirit Metaphysical Gift & Rock Shop

You'll find a great selection of gemstones and other chakra and aura balancing pieces at Peaceful Spirit Metaphysical Gift & Rock Shop at 212 San Marco Avenue, across from the Florida School for the Deaf and Blind. Shop owner, Diane, graduated from the Pennsylvania School of Muscle Therapy, is licensed in Florida, is nationally licensed, and is a member of the American Massage Therapy Association.
Despite our blunders, Mother Earth loves us anyway, and she's provided everything we need to heal ourselves, whether it be a hurting heart, an ailing stomach, an arthritic joint, or we just want something pretty to look at. Amethyst, for example--beautiful purple amethyst. Amethyst has been said to help alleviate ailments of the digestive tract, stomach, and skin. It is thought to be calming/soothing to the neural impulses in the brain, and it has been used as an elixir for arthritis. Amethyst is a semi-precious stone in today's classifications, but to the ancients it was a "Gem of Fire," a Precious Stone worth, in times passed, as much as a diamond.
Speaking of that rock (the diamond) …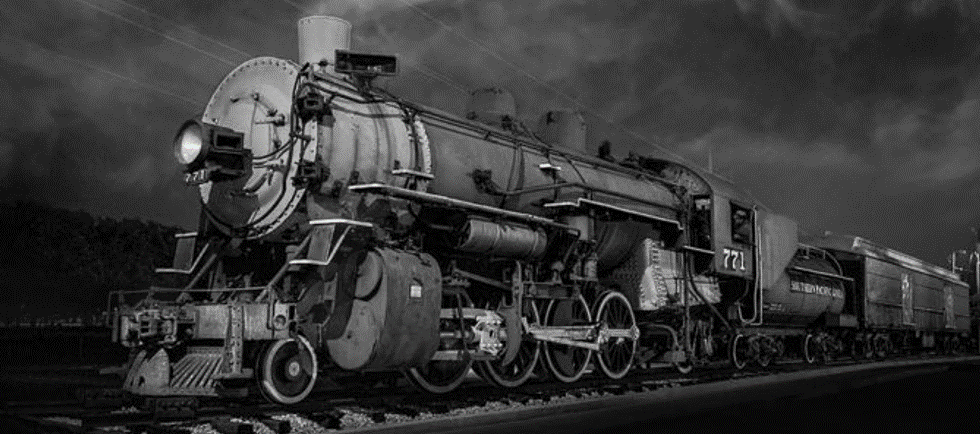 2. Jewel Thieves and Peacock Diamonds
The year is 1895. You sit comfortably in your first class cabin as you make your way from the frozen streets of NYC to the warm tropics of sunny Saint Augustine, Florida. It is a normal trip for people of your social status but unlike the other well to do tourists riding with you, you are taking this trip for a reason other than sunshine. You have a job to do, one last job before you can retire as a master jewel thief. The biggest prize you have ever sought, the Peacock Diamonds that are only a couple of walls away. If you can steal those jewels and disappear into the night not only will you be rich, you will be legendary. As your father taught you, "Fame out shines all riches." St. Augustine's Escape Room, located at 113 King Street, is everyone's new favorite thing to do and offers multiple adventures. The above-noted adventure is the Night Train Escape. No special skills or knowledge are necessary. More …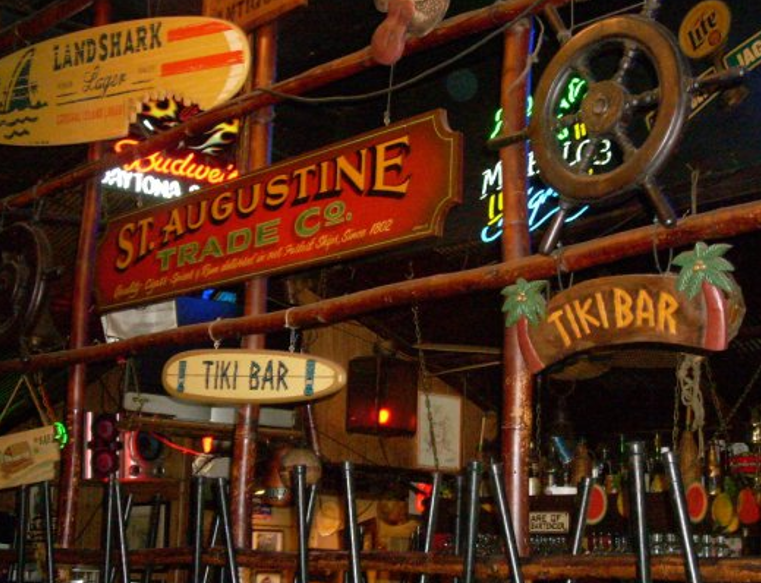 3. "Good Rock Music Always Tends To Be Around" [Dave Davies]
St. Augustine's Trade Winds Lounge, the oldest lounge in the Oldest City, is everyone's favorite dive bar. It started out as a folk lounge and morphed to its current mix of rock'n'roll, blues, and a little country. It's super smoky and the dance floor is super small, but, it's super smoky and the dance floor is super small! You get live afternoon music on Wednesdays, Saturdays, and Sundays, and live happy hour and evening music every day! Check it out at 124 Charlotte Street, just off the plaza on the north side.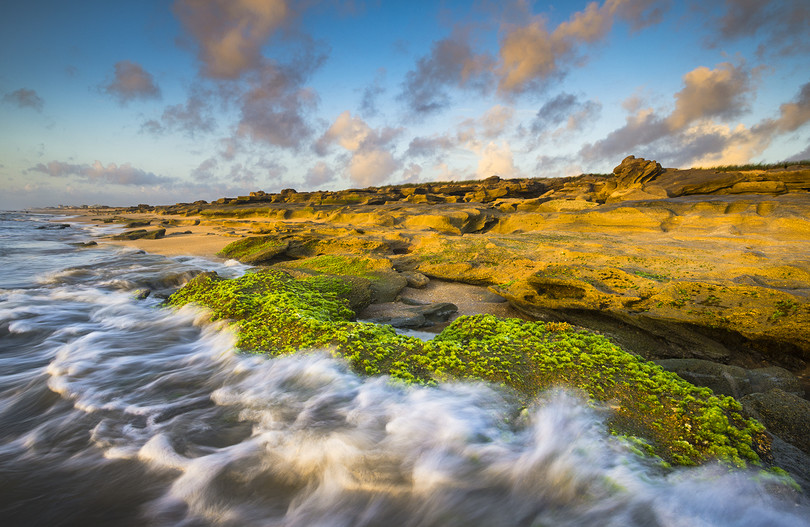 4. Love You To The Rocks and Back
Rock Beach at Washington Oaks State Park is famous for its unique formations of coquina rock along its stunning shoreline. What's so special about coquina rock? The National Park Service Castillo de San Marcos page offers the best explanation. "Thousands of years ago, the tiny coquina clam donax variabilis lived in the shallow waters of coastal Florida, as they still do today. These are the small pink, lavender, yellow, or white shells one sees along the beach at the waterline. As the resident clam died, the shells accumulated in layers, year after year, century after century, for thousands of years, forming submerged deposits several feet thick. During the last ice age, sea levels dropped, exposing these shell layers to air and rain. Eventually, the shell became covered with soil, then trees and other vegetation. Rain water percolating through the dead vegetation and soil picked up carbon dioxide and became carbonic acid, the same ingredient that makes soda fizz. As this weak acid soaked downward, it dissolved some of the calcium in the shells, producing calcium carbonate, which solidified in lower layers, much like how flowstone and stalactites are formed in caves. This material "glued" the shell fragments together into a porous type of limestone we now call coquina, which is Spanish for "tiny shell". Read more about how this rock changed St. Augustine's history. Rock Beach and Washington Oaks State Park is just 20 miles south of Downtown St. Augustine. Maybe you could even rent bicycles and bike those 20 coastal milesNow, wouldn't THAT rock!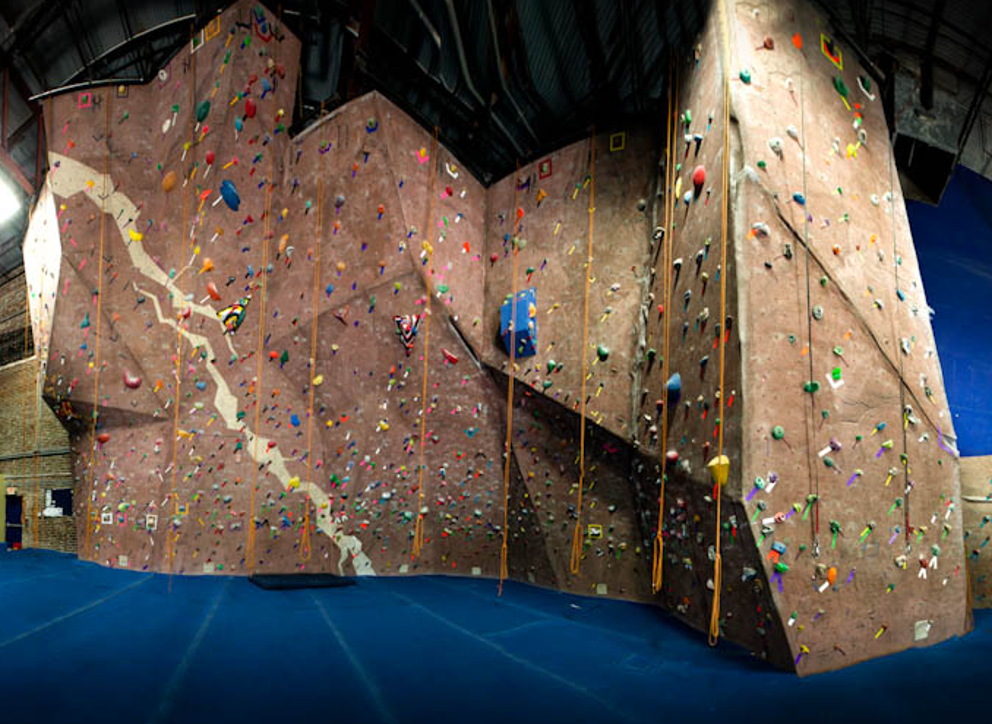 5. Rock Bottom is a Great Place to Start
Indoor rock wall climbing first hit the scene in Seattle in 1987—that's literally 30 years ago! Climbing is a whole-body activity, but you'll work some muscles harder than others as you pull your body upward against gravity. The goal is to reach the summit of a formation or the endpoint of a usually pre-defined route without falling. St. Augustine doesn't have its own wall yet, but there is one just 40 miles north on U.S. 1 / Philips Highway, The Edge Rock Gym. Here's how to rock that rock wall!
Brought to you by St. Augustine's Inns of Elegance
Where to Stay in St Augustine
Marin House
#1 Hotel in St Aug on TripAdvisor
Bayfront Westcott House
We'll coordinate your every wish and spoil you every second!
Casa de Suenos
The House of Dreams
St. Francis
Circa 1791

St. George Inn
When you leave you will have friend for life at the St George Inn.
Save
Save
Save