October 17, 2015
Lightner Museum / Alcazar Hotel
By: Jamie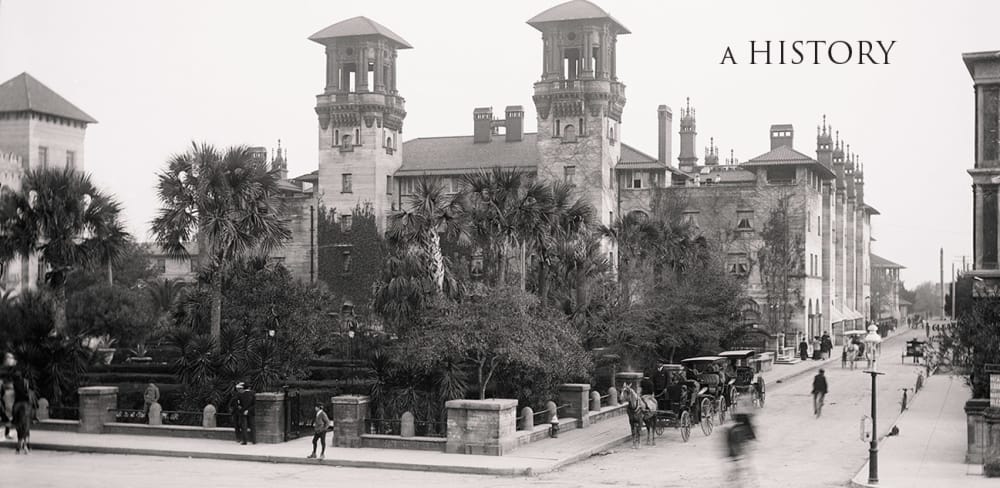 Enjoy It's Grandness
75 King Street
We dare say that St. Augustine's Lightner Museum, located in the downtown historic district of St. Augustine and across the street from Flagler College, will delight even those who think they aren't "into" museums. One cannot help but to enjoy its grandness! The museum features relics of America's Gilded Age, to include costumes, furnishings, mechanical musical instruments (with live demonstrations), and beautiful examples of cut glass, Victorian art glass, and the stained glass work of Louis Comfort Tiffany. You'll find a neoclassical rocking chair, carved and gilded, 19th century Europe; a Grande escritoire made for Louis Bonaparte, King of Holland, cabinet maker unknown, 1806-1810; a glass piston machine, blown and drawn glass by Robert Howell, 1892.
The museum structure itself is that of the former Hotel Alcazar, built in 1887, in Spanish Renaissance style. It is no surprise that it's architects were commissioned by railroad mogul Henry M. Flagler. The website DrBronsonTours.com provides a lot of great information on the Alcazar, like this excerpt from The Tatler, Jan. 16, 1897 … "There is probably no hotel in the country enjoying a greater degree of popularity than the Alcazar. Its large, beautifully furnished rooms, broad halls, steam heated, the imposing restaurant and commodious parlor, handsomely furnished, contributing greatly to secure a strong place for it in the affections of its patrons. Its popularity is not, however, confined to its guests, every visitor to St. Augustine delights in an hour spent among the palms and moving cocoanut trees that add so much to the charm of the rotunda, where twice every day Stenker's orchestra renders music of a high order in an artistic manner. Indeed, the orchestra is one of the best in the city, although consisting of but five musicians."
The structure also features a swimming pool, 45 feet from the pool's floor to its glass roof, 120 feet long, 50 feet wide, with the deepest part being 12 feet. Rumor has it that television actor (best known for his role as Tarzan) and Olympian swimmer / gold medal winner Johnny Weissmuller used the pool for training.
Today, the pool area houses the very elegant Alcazar Café. Talk about pool side dining, literally! The menu includes such appetizers as escargot, hummus, and a fruit and cheese plate; soups; sandwiches; salads (the tomato and avocado is particularly scrumptious); and entrees like Shrimp Scampi, Grilled Salmon, Pasta Zoratoa, Crepes, a bean and cheese burrito and even pizza! There is quite an extensive wine selection, and beer is available also! The café is open every day from 11 am to 3 pm and 6 to 9 pm during First Friday Art Walk.
After the hotel closed, Chicago publisher Otto C. Lightner bought the building as a location in which to house his personal collection of Victorian artifacts. He opened the museum in 1948, and the building is listed on the National Register of Historic Places. The museum is open 9 am to 5 pm daily. On the first Wednesday of each month (February thru June), join the museum curator for an exclusive encounter with some of the museum's eclectic relics. The themed interactive tours are changed monthly and are designed to give participants an opportunity to talk with the curator and to see acquisitions in operation rather than just as static displays. For admission fees, tours, and other details, visit Lightner Museum's website.

Above photo borrowed from Lightner Museum website